After that first class in working with silver clay I returned home to Sussex simply buzzing with excitement. I couldn't wait to make my first purchase of tools and of course clay.
The order arrived and I was off and running, working in the dining room, not ideal but….
I made pendants and earrings my first set pictured below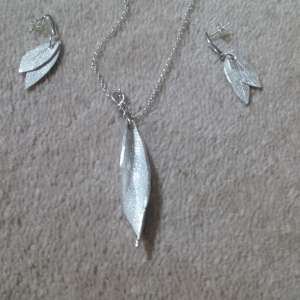 I confess I felt particularly smug about the pendant as I had worked out how to impress the sage leaf on both sides and curled the leaf without damaging the print.
Of course the silver leaves didn't become jewellery until I attached chain and earring findings to the pendant and leaf drops. I did some online research and started buying chains and earring findings.
An artist friend saw the set, I was actually wearing them, and asked if she could buy them from me. I was astonished and pleased, of course the answer was yes. I confess I was a little bit reluctant to sell my very first good pieces but silver clay is not cheap! and I wanted to make more.
Maybe using gems and pearls to make other jewellery to sell could fund my silver making?  My research showed many suppliers to buy from, some specialising in wires, some in gems and of course tools. Then I discovered a TV jewellery making channel where I could buy pearls, gems, chains all manner of findings and goodies.
I bought a few semi precious gems and pearls and some wire and began experimenting.
Another friend saw some of my early pearl earrings and necklaces. She asked if I had thought about making wedding jewellery. She would be interested in showcasing my jewellery in her salon.