The story of how The Katie Dragonfly Necklace was developed.
I had posted some pictures of hair vines on social media and was contacted by a lady who wanted to know if it was possible to make a necklace in the same style.
Having undergone a heart transplant Katie wanted something that would disguise, not hide, the scars on her decolletage. We exchanged a number of messages so I could get a feel for Katies likes / dislikes, clarify measurements, and agree budget.  For many people a dragonfly denotes new beginnings. So because of the heart transplant Katie had undergone I thought an appropriate addition would be a wire work dragonfly.
Next steps. Draw the designs buzzing in my head, and choose one that I thought would be the closest match to the brief. Then send this electronically to Katie for her approval/ comment. I made a prototype of part of the design, took pictures and sent those along with the drawings.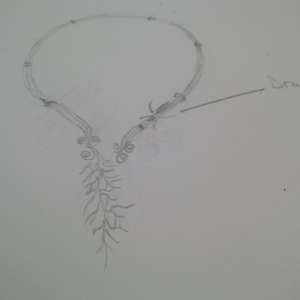 I was delighted that Katie loved the proposed design and gemstones.  Versatility and surprise are elements I like to add to my pieces, so there were a few design aspects I did not share immediately with Katie.
Surprises
I happened to have some garnet gems that were almost heart shaped and I included these in the vine.
The vine is removable meaning it can be attached to any chain and allows the choker to be worn separately.
I included a sterling silver chain.
Sapphire is the birthstone of when Katie received her new heart so a tiny pair were wired to the chain clasp.
The sapphire clasp on the chain can be worn to the front of the neckline.
In effect 5 necklaces in one.