Welcome to my news area of for the website and studio.
If you have made it this far I have to say a big thank you for your interest in my web-site and jewellery.
Here I would like to share what is happening in and around the studio. The intention is that I will share information about pieces I am working on, new techniques learnt, and how I became caught up in the world of jewellery making. Also, an area where you, the visitors to my site, could comment or provide feedback if you wished
This is the studio, looking reasonably tidy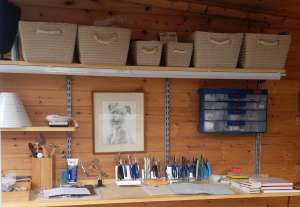 I hope to post something of interest here most months.
It would be great if you would check back from time to time to see what has been going on.
I'll write soon
love
The Kentish Lass