The Beca bracelet was developed  when I was commissioned to make a special birthday gift for the daughter of this client. The choice of whether it was a necklace or bracelet to be mine.
The client and I exchanged some messages from which we agreed a budget and I learnt that his daughter was a childrens swimming instructor, and also interested in travel. Also that she already has a number of necklaces and that her birthday is in May.
I suggested that a bracelet would be an ideal addition to her collection of jewellery with a water theme. The budget meant I could include her birthstone if the client liked the ideas. The elements would then make this gift completely unique to her.
I drew a design and sent this electronically to the client, and suggested a choice of four sea themed charms to include on the bracelet. The design was agreed and a sea horse charm chosen.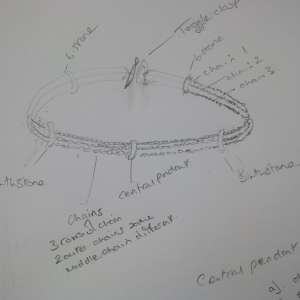 The bracelet is five sections of three chains, which are connected at four points with emeralds. The emeralds are intended to represent the main points of the compass. The sea horse charm can be removed allowing the bracelet to be worn with or without a charm. If wanted Beca could attach her own charm to the bracelet in place of the seahorse.