On 12 Nov 2017 I received a commission enquiry for a pendant that needed to be completed and delivered by the 16 December 2017. The brief for this commission was:
A sterling silver wire wrapped pendant using 2/3 pieces about 3inches long and possibly 1-1.5 inches wide.
A piece of rough but not druzy Amethyst was a key element
A raspberry coloured stone
A shocking pink stone
We agreed a budget and the search began for the right gems.
I found a gorgeous shocking pink Agate fairly quickly and could obtain it swiftly, key to the timescale. I sent a picture to my client and was delighted when she said she 'loved' it.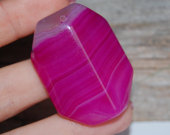 The rough Amethyst proved more challenging, but as luck would have it my client came across the ideal rough Amethyst when out at Winchester Christmas market.
Two stones both approx 2″ in length.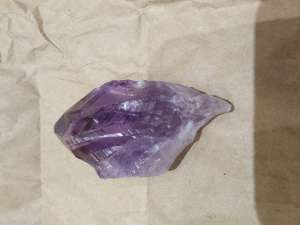 Now for the design.
Sterling silver wire work of course
Would it be good if the two pendants could be worn together as well as separately? Yes said Jane
I crafted wire-wraps for both gems in silver plated wire – just to see how they would work and whether Jane would like them: her response?  "I really love those".
On to the final versions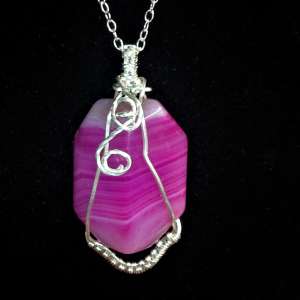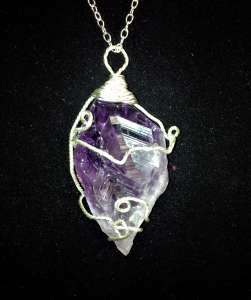 A removable sterling silver bail has been used to connect the two pendants together and can also be used to connect any other pendant that Jane might have in her collection.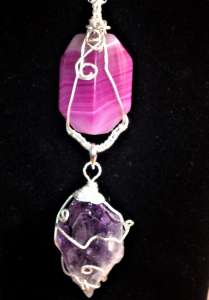 The finished pendants were posted on the 4th Dec and arrived with Jane on the 5th December, her response when the pendants arrived?
"OMG they are amazing!!! To say I'm overjoyed would be an understatement. Thank you soo much. LJ xxx"
One happy customer = one happy jewellery maker